FALL CLASSES start 9/9
TODDLER
CLASSES ARE FULL
Please email for space
mtairyperformingarts@gmail.com
SCHEDULE UNDER DANCE CLASSES
WINTER CONCERT:
DEC. 16 @6:30 & DEC. 17 @1:00
BROADWAY MUSICAL THEATER FALL:
WILLY WONKA KIDS – 9/18-11/27 (full)
 SEE ADULT CLASSES FOR YOGA SCHEDULE
(Bellydance & Adult Ballet start Oct)
Mt. Airy Performing Arts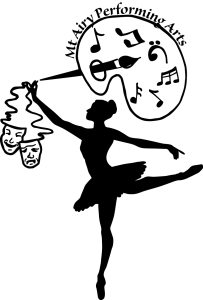 230 E Gowen Avenue
Philadelphia, PA 19119
On the campus of Grace Epiphany Church
(enter through rear door, facing playground)
215-248-1810 phone
215-248-1820 fax
A note from the Director, Kim Williams:
Like all small businesses, MAPA is struggling to keep its head above water during this terrible pandemic.  We are thankful that we have enormous support from our MAPA families, but what we really need is support from the total community.  Your donation could help us today, tomorrow and until this ugly thing ends.  We are sanitizing our studios before and after every class and will continue to have classes offered virtually.  The health and safety of our students and faculty are of great importance to MAPA. 
Use tab above to register and pay for Classes NOW or email mtairyperformingarts@gmail.com.
Our Toddler Ballet/Tap class is a wonderful introduction to dance that is both structured and fun. We explore jumping, turning, creative movement and the experience of a solo performance. All of our dance and theater classes help students explore their talents with confidence, perseverance and discipline while learning to perform with excitement.
We offer Dance Classes for Toddlers, Children & Teens including Ballet, Tap, Jazz/Hip-Hop,  Boys Tap/Hip-Hop and Adult classes in Zumba, Tap, Pilates, Yoga, Basic Adult Ballet, Bellydancing, Ballroom, Line Dancing and more.  We also have Theater & Music Classes. Adults may take a class in one room and children in another with no interruptions. We have the lowest prices in the area and our studios are bright, clean and new, showcasing local artwork throughout! Click on above tabs for schedules and additional information.
We have two performances for our Dance Program, a Winter (12/16 & 12/17) and Spring Concert (6/15 & 6/16), where there are never any costume fees, (we make them ourselves) and tickets to these concerts are $7.00 each.  Theater Program has three performances per year, one after each 10 week session, and they are free!
All "touch" areas are disinfected BEFORE and AFTER every class. This includes all barres, cubbies, outside door and stair bannister as well as all inside doors, light switches, sinks and toilets. Floors are mopped at the start and end of each day.
We use Method Antibacterial Bamboo spray and Clorox and Lysol Antibacterial wipes within CDC guidelines.
Our central air in main studio has HEPA filter
There are two HEPA/UV air purifiers in main studio
There is a turbo dual exhaust fan in side studio
All staff, teachers and adult students are vaccinated
Masks are recommended for all unvaccinated students
We are always on the lookout for new teachers. If you are interested, please contact us at 215-248-1810 or send a resume to: mtairyperformingarts@gmail.com.